Garth Brooks Inducts Skaggs into Historic Institution at Medallion Ceremony
Held at the Country Music Hall of Fame and Museum in Nashville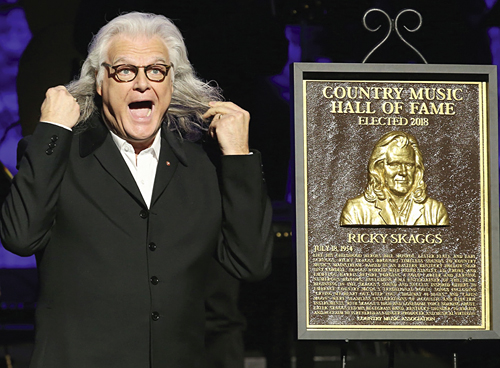 Ricky Skaggs exclaims over his likeness depicted on his
newly unveiled Country Music Hall of Fame bronze plaque
Country Music Legend Ricky Skaggs officially became one of the newest members of the Country Music Hall of Fame. At the official Medallion Ceremony held in the Country Music Hall of Fame and Museum's CMA Theatre, Hall of Fame member Garth Brooks, through tear-filled eyes, formally inducted his musical mentor into the historic institution.

"It's kinda hard to believe that this day has really come," says Skaggs. "To hear someone say, 'The newest member of the Country Music Hall of Fame' are some of the greatest words you could ever hear this side of Heaven! I'm so grateful to be inducted into this revered Hall among these highly honored and most beloved people. It's beyond humbling."

"Many of the fathers and mothers that are in this Hall literally built country music from the ground up," Skaggs adds. "They were 'Working on a Building,' and they built well. Their incredible talent, hard work, and love for this wonderful music has laid a deep and solid foundation that generations will stand on. I'm so thankful for their tre-mendous contributions. People like me could have never become a member without their sacrifice. They showed us the way, they made the music, and we followed the sound!"

About Ricky Skaggs:
Earning 12 #1 hit singles, 15 GRAMMY Awards, 13 IBMA Awards, nine ACM Awards, eight CMA Awards (including Entertainer of the Year), two Dove Awards, the ASCAP Founders Award, three honorary Doctorate de-grees, inductions into the IBMA Bluegrass Music Hall of Fame, Musicians Hall of Fame and GMA Gospel Music Hall of Fame.