Jay Leno and Jeff Foxworthy
Once-In-A-Lifetime Event at The Opry House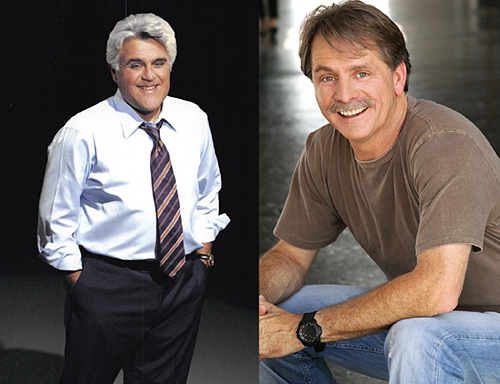 During next year's 2019 Nashville Comedy Festival, iconic American comics Jay Leno and Jeff Foxworthy are set to take the stage for a 'once-in-a-lifetime' event on the historic stage of The Opry House. This special event is exclusive to Nashville, as it will be the first time and only place to see both artists share the stage. The legen-dary "clean comedy" entertainers will perform at The Opry House on Sunday, April 14.

About Jay Leno:
Acclaimed late TV show host, admired stand-up come-dian, best-selling children?s book author, much-in-demand corporate speaker, TV and movie voice-over artist, pioneering car builder and mechanic, and philan-thropist Jay Leno is widely characterized as "the hardest working man in show business."

About Jeff Foxworthy:
Jeff Foxworthy is one of the most respected and successful comedians in the country. He is the largest selling com-edy-recording artist in history, a multiple GRAMMY Award nominee and best-selling author of more than 26 books. In 2014, he was inducted into the Georgia Music Hall of Fame. Widely known for his redneck jokes, his act goes well beyond to explore the humor in everyday family interactions and human nature, a style that has been com-pared to that of Mark Twain.