Deborah Allen Adds Two New Million-Air Award to Her List of Honors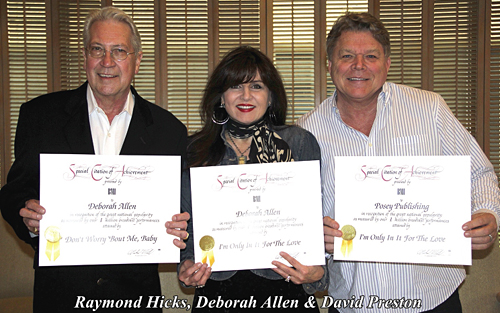 Deborah Allen, the fiery country singer who stole America's hearts with her cross-over smash, "Baby I Lied," was recently honored by BMI (Broadcast Music Inc.) at their Nashville offices. Deborah was presented with the coveted Million-Air certifications for Janie Fricke?s "Don?t Worry "Bout Me, Baby" and John Conlee?s "I?m Only In It For The Love" by BMI executive David Preston. A Million-Air Award is given to songwriters, composers, and publishers whose songs accumulate over one million U.S. broadcast performances. The acknowledgement is a mark of praise.

In addition to these two honors, Deborah has been awarded BMI Million-air certificates for songs penned for other artists Janie Fricke?s "Let?s Stop Talking About It," Patty Loveless? "Hurt Me Bad In A Real Good Way," and Tanya Tucker?s "Can I See You Tonight." Deborah has also been awarded BMI Million-air certificates for her own recordings "I Hurt For You," receiving a one million airplay award and "Baby, I Lied," receiving a two million air-play award.

About Deborah Allen:
Deborah Allen is one of those rare artists who forged their own path to success and ended up building a world-class career in the process. An extraordinarily talented singer, songwriter, producer and performer, Deborah's unique abilities as an artist may be matched only by her enthusiasm and creativity as an individual. It is that formidable combination of spirit and talent that keeps the Grammy-nominated entertainer in demand.